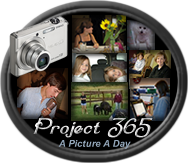 I know I'm a week behind but I still wanted to share. I am not sure when I will get pictures posted for Week 17 but I will catch up someday!
Sunday - We were invited over to our Pastor's house for dinner. It is always fun going over and watching their 3 sons. They always make me laugh. Pastor mentioned to us that he had recently started practicing his trumpet skills. We of course had to ask him to play something for us and I think he did a great job.
Monday - Mom helped me to hang up some pictures. I still have lots more to unpack and hang up but every little bit makes me feel more settled. I love pictures. Every time I look at them a special memory comes to mind. Also, I am reminded to pray for the people in the pictures.
Tuesday - Girls night out with Lana at 808 Sushi. It was yummy but sorry to say I forgot to take a picture!
Wednesday - Mom and I put together these Easter jars. I saw the idea and just had to make some. I think they are adorable!
Thursday - After work we headed to California. This was the hotel we stayed at. I love getting great deals on hotel rooms. This was an awesome 4 star hotel and we paid $45 for the night.
Friday - Cruise day... Since Kathy is platinum status on Carnival we are one of the first people on the boat. The wedding party always gets on first and then we are next. There was one wedding going on and I snapped this picture as I was waiting for the elevator.
Saturday - Aren't these the cutest?
Now it's time to check out Sara's blog to see what everyone else is up to these days.