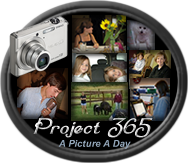 I can't believe I am a week behind. I have no excuse really so I won't bore you with explaining myself. So before I post week 28 I better get myself caught up. This was my last week of house sitting. I got to enjoy some time with this sweet family from church. I also had another family come over to enjoy the pool but I didn't get a picture of them...sorry.
Paul bought Kathy a keyboard for her anniversary. Some day in the future Kathy is going to take lessons but for now Paul does an amazing job at playing.
Kathy and Paul had a half day at work on Friday due to the holiday weekend. When they got home we planned to go out for dinner and a movie. Kathy decided she wanted to put my hair in
curlers
so I let her.
I will post lots of pictures from my birthday weekend (which was July 4
th
) but this one I share with you this week because they gave me this birthday gift a few days early. My laptop has been giving me the blue screen of death lately and Paul has recently made the switch to a Mac and seems to be very happy with it so they got me a
MacBook
Air. So far I have enjoyed it although I know I have lots to learn.
Now it's time to check out Sara's blog to see what everyone else is up to these days.