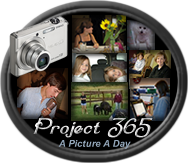 Sunday
Enjoyed the beautiful trip back to Las Vegas from California. We had a fabulous weekend away!
Monday
Received this card in the mail. My niece Rachel made it and I think she did a wonderful job! Thanks for the card Rachel and keep up the good stamping!
Tuesday
Not sure what happened to my picture for Tuesday... Sorry!

Wednesday
Spent the evening with Pam...running around getting things finalized for the church Spring banquet. When we dropped her off at home, she gave us some stamps, a recipe book and two ornaments. This is one of the stamps she gave me and this is the card I went home and made with it. Thanks for everything Pam!
Thursday

The church spring banquet is right around the corner. We handed most of the invites out two weeks ago but we have had some new families come to the church and we wanted to make sure they got an invite also. So I made some extra ones. They don't look exactly the same as the first batch but I still think they turned out nice.
Friday

Pam and Peter surprised me and Kathy by stopping by our work with these gorgeous flowers. Talk about brightening up our day! Thanks so much, you too are very special!
Saturday

I intended to get some pictures but it just never happened. We had a full day. Spent the morning going around a neighborhood, knocking on doors and handing out pamphlets inviting people to our church. Went to the Argentine restaurant for lunch with Pam and Peter. After our delicious meal we went to watch Rango at the theater. Not my kind of movie but I think they enjoyed it.
Now
let's see
how everyone else is doing.