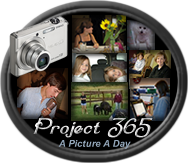 Monday
Our office was closed for the holiday which made it a great day to work at home. Mom and I did some rearranging of furniture, along with some unpacking and organizing. I found a great place for Mike's flag, picture, dog tag and his Marine ball cap.
Tuesday
We had a potluck at work. I made some really yummy
Mac n' Cheese
. Kathy and I were cleaning up and Brandon was finishing his food when I realized I didn't take any pictures of the potluck so I snapped this quick picture of Brandon.
Wednesday
We had a girl's night with Tammi (our Pastor's wife). Our kitchen was still without counters and plumbing so we took her out to dinner and then came home to teach her how to play Hand and Foot.
I had one of the specials that night... it was a salmon with two shrimp on top. On the bottoms were some very delicious and uniquely seasoned mashed potatoes. The red sauce was a spice red pepper and honey mixture. We had a fabulous night!
Thursday
Mom has been an amazing help. I went to work with my room empty and came home to my new bedroom furniture put together, arranged and everything looking a little more like home.
Friday
We stopped at Home Goods to look for a mini muffin pan and walked out with the deal of a century. This Coke tin container was marked at $49.99 and it rang up at $5.99. I couldn't believe it. I love it and it fits in perfect in our Coke kitchen.
Saturday
We had a special day with Miss Wylma. She is a sweet 92 year old lady from our church. We invited her over for tea time. It was wonderful getting to know her better. She told us all about her family, where she has lived and her pet bird.
Sunday
After an entire week of not having a functioning kitchen Mom was eager to get cooking. She made 4 different mini muffins for tea on Saturday. When I woke up this morning she had these sausage crescent bites (recipe coming later this week) baking to take to church.
And she has so much time she also made eclairs.
Since I didn't share any kitchen pictures yet, here are some pictures of our new, lovely granite counter tops.
Now it's time for me to read about
your week
.