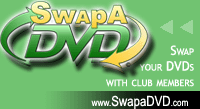 Do you have any used DVDs laying around? I did and when I found out about SwapA DVD I signed right up.

Let me tell you how it works -- because it is so easy! I listed a bunch of DVDs on the site (listing your first 10 DVD titles gets you a free credit!) and I got a free DVD credit to get started. So you can order a DVD right away - free of charge -- and have the DVD mailed directly to you! No strings attached. No gimmicks. No spam mail. Nothing.

When another member selects one of my DVDs that I have listed, I mail it to them. Yes, I pay for the postage. But then I get another DVD credit and I can select a DVD that I want. So another Club Member returns the favor and mails me one of his or her DVDs free of charge. For every DVD I mail out, I get another DVD in return - a true shared system!

When someone requests one of your DVDs, all you have to do is drop it in the mail. You really need to check it out.
Note: I have even accumulated so many points that I have sold some of my points to other SwapA DVD members.